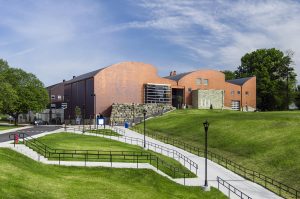 When Shepherd University wanted to bring their art and music programs together, they realized they would need a new facility.  Morgan-Keller Construction and TEI Electrical Solutions (TEI) were selected as the best partners to collaborate with on this project to build the Shepherd University Center of Contemporary Arts in Shepherdstown, WV.   TEI worked on Phase 1 and 2 of this project which required a variety of approaches to incorporate function and design.
Project Goal
The primary goal of the project was to build a facility that could bring together the art and music programs and add a theater.   TEI provided services for theater lighting, sound systems, power distribution, general lighting and controls and fire alarm system.  The biggest challenge with Phase 2 is that it was completed while students were occupying and using Phase 1.
According to Rhonda Smith, professor of art and chair of the Department of Contemporary Art and Theater at Shepherd University,  "There just wasn't enough available space which meant that classes were running in the spaces continuously. The students had no place to work, and you cannot really produce artwork if you only work during class time."
Project Specifics
While building Phase 2, TEI incorporated catenary lighting between the buildings which helped create directional lighting as well as adding an artistic shadow effect, a perfect complement to the design and use of this space.  Catenary lighting is also known for creating more flexibility with lighting, minimizing light pollution and energy consumption.
The architecture and height of the ceilings were designed to accommodate particularly large or tall pieces of artwork being created.  So, TEI installed large fans to impact air flow in the tremendously high ceilings.
TEI was proud to provide electrical and specialty construction services for this unique project!  For more information on TEI's services, contact TEI today!